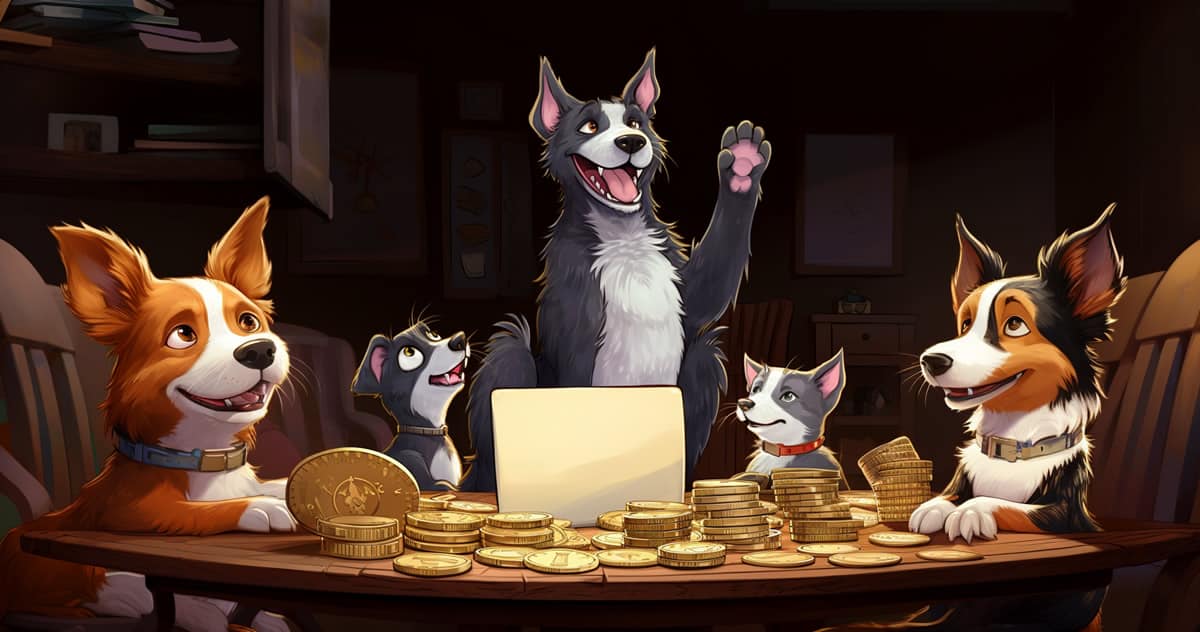 Affiliate links offer an excellent opportunity to boost your site's earnings. They allow you to earn money by promoting products you genuinely endorse to your audience. However, it's important to approach this strategy with care to maintain a positive relationship with your readers and stay compliant with legal regulations.
In this guide, we'll address common questions about using affiliate links effectively on your site.
One quick caveat, before we start: We're not lawyers, and nothing in this post should be construed as legal advice. We're relying on the the U.S. Federal Trade Commission's (FTC) rules and guidance — other countries may have other requirements. When in doubt, please ask your own lawyer!
Ok, let's dive in! 💰💻👍
Do I need an affiliate disclosure?
The answer is unequivocally yes.
Per the FTC, you must "disclose when you have any financial, employment, personal, or family relationship with a brand." So, if you work with brands to recommend or endorse products, you need to disclose the relationship. This applies whether it's an affiliate link, sponsored content, a review where you received a free product, or when there's any kind of benefit to you by the recommended or referred party.
Other reasons it's important to disclose a financial or affiliate relationship
In addition to the legal requirement of disclosure enforced by the FTC, there are other reasons why you should disclose a financial or affiliate relationship to your readers. First and foremost is that it's important to be clear and upfront with your readers to maintain trust with them.
Next, for SEO purposes, Google also requires that you disclose such relationships through the use of the rel="sponsored" or rel="nofollow" attributes (more details below).
Additionally, most legitimate affiliate programs will require you to disclose the relationship, and may even have specific language for you to use. Conversely, if someone asks you not to disclose, you're better off not doing business with them.
And finally, being open and transparent is the right thing to do. 😇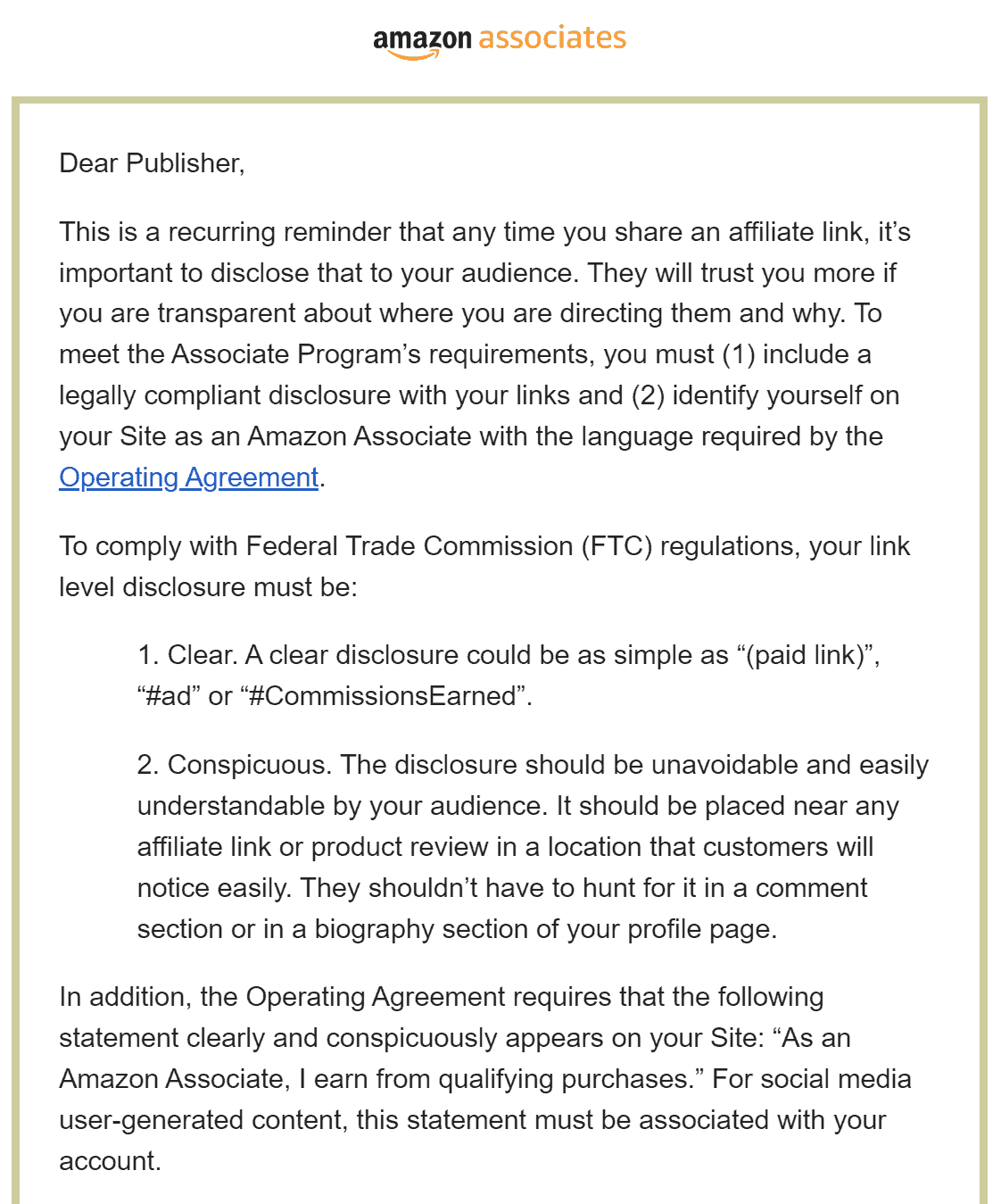 OK, I need an affiliate disclosure… So where do I put it?
The FTC rules about disclosure placement say that the affiliate disclosure should be "clear and conspicuous" and appear before the actual link. Someone should see the disclosure before they actually click a link or read your review or recommendation.
Our recommendation is to work the disclosure naturally into your content, being upfront with your readers. Another good option is to add the text (paid link) immediately after the link (although it's after the link, it's close enough that readers should be able to see it before they actually click).
Here's some official guidance by the FTC:
What do I have to disclose? Where should the disclosure be?

You should disclose your relationship to the retailer clearly and conspicuously on your site, so readers can decide how much weight to give your endorsement. You could say something like, "I get commissions for purchases made through links in this post." In some instances – like when the affiliate link is embedded in your product review – a single disclosure may be adequate. When the review has a clear and conspicuous disclosure of your relationship and the reader can see both the review containing that disclosure and the link at the same time, readers have the information they need. But if the product review containing the disclosure and the link are separated, readers may not make the connection.

As for where to place a disclosure, the guiding principle is that it has to be clear and conspicuous. The closer the disclosure is to your recommendation, the better.

Is "affiliate link" by itself an adequate disclosure? What about a "buy now" button?

Consumers might not understand that "affiliate link" means that the person placing the link is getting paid for purchases made through the link. Similarly, a "buy now" button would not be adequate.

Is "paid link" by itself an adequate disclosure?

"Paid link" right next to an affiliate link should be an adequate disclosure of the nature of the link.
How about putting it in the footer or sidebar?
Unless you're adding affiliate links only in your site's footer, this location won't meet the FTC requirements because it will be after the link and far away. (However, this may be a sufficient place to put Amazon's program-specific language requirement, in addition to the FTC-compliant disclosures — check with your lawyer!)
The sidebar is also an "iffy" choice of location because on many sites, when viewing a site on mobile, the sidebar is displayed after all the content rather than alongside.
So, should I place a blanket disclosure at the top of every post?
Recently there's been a trend for publishers to add an affiliate disclosure automatically at the top of every single article, often inline with the other post meta like the author byline and published date.
Is this the easiest way to ensure your affiliate disclosure will appear before the affiliate link in most cases? Yes. Adding an "automated" link to every post will ensure you always have an affiliate disclosure on your pages. This placement is generally considered acceptable; however, it may not be the ideal practice. If you only place affiliate links in your recipe card, for example, it might make more sense to have a disclosure at the top of the recipe card itself, closer to the actual affiliate links.
And, if a post doesn't contain any affiliate links and isn't a sponsored post, why even have the disclosure on the page at all?
As an alternative to an affiliate disclosure that's added automatically to the top of every post, you could create a Synced Pattern (previously called "Reusable Block") that you can reuse and insert only on pages that contain affiliate links. Using a Synced Pattern will allow you to simultaneously update the disclosure block across all instances if you need to in the future.
If you'd like to really dive more into what "clear and conspicuous" means, we recommend checking out this article on FTC Disclosure for Affiliates by Privacy Terms.
With the September 2023 Google Helpful Content Update, we've heard some speculation that sites may have been penalized in the rankings for having a "boilerplate" affiliate disclosure at the top of every post. We asked Casey Markee about this, and he said he's seen no evidence to support this concern – and he confirmed directly with Danny Sullivan at Google that this isn't going to impact sites.
Should affiliate links open in a new tab?
Ah, now we're getting to the controversial question.
We (the NerdPress team), based on accessibility and usability recommendations, recommend that links should generally not automatically open in new tabs — and this goes for affiliate links as well.
The Web Content Accessibility Guidelines (WCAG) specifically recommend "opening new windows and tabs from a link only when necessary." That's because forcing links to open a new tab can cause navigation confusion, particularly on mobile devices.
Setting links to open in a new tab also removes the user's choice. Most users these days know how to open links in new tabs when they want them to do so, by holding ctrl or cmd when they click the link, or by right-clicking and choosing "Open in new tab."
However, there's a notable exception: If opening a link in the same window would interrupt the user's task or provide context-sensitive information, it's a better user experience to open the links in a new tab.
For example, links for ingredients in a recipe card could open in a new tab because, presumably, the reader will be making the recipe and want to keep the original tab open, too. Another example would be a link to a website's Terms of Service during checkout — since leaving the checkout process could cause them to lose their already filled in their contact or payment information.
We've had some great discussions with SEO Expert Casey Markee about this, and he disagrees with us on this point. His opinion is that all affiliate links should open in an external tab so as not to take the visitor away from the site. (We've agreed to disagree on this one. 😉)
Ultimately, as the publisher, you should do what you feel will be best for your visitors overall. It won't directly impact SEO, so this is purely a user experience and accessibility decision.
Something we completely agree with Casey on: It's a good idea to let your visitors know if a link will be opening a new tab. We like the Accessibility New Window Warnings plugin from our friends at Equalize Digital. This plugin adds a little icon immediately after the link when it's going to open a new tab, along with a hover message that warns the user. (We set the two links in this paragraph to open in new tabs so that you can see it in action.)
Do affiliate links need to be "nofollow" or "sponsored"?
Yes, absolutely. All of your affiliate links must have either the rel="sponsored" or rel="nofollow" attribute. (There's no need to have both, though having both won't hurt anything.)
Some of Google's spam updates have specifically addressed affiliate links, so it's essential to follow this practice to avoid being penalized. Google's docs include a helpful table on how you can qualify your outbound links through rel tags.
The guidance here matches the FTC guidance: If you need to disclose the relationship, you should also apply one of these attributes — because this is how to properly disclose the relationship to our robot overlords. 🤖
How to add the "sponsored" or "nofollow" attributes to your links in WordPress
Now that you know that all of your affiliate links should have either the rel="sponsored" or rel="nofollow" attribute, let's show you how to add that to your links in WordPress.
The WordPress Block Editor doesn't include a built-in option for adding these tags, but if you have Yoast SEO installed, it adds checkboxes to add the tags easily.
Highlight the text you want to turn into an affiliate link, and in the toolbar, click the link icon 🔗.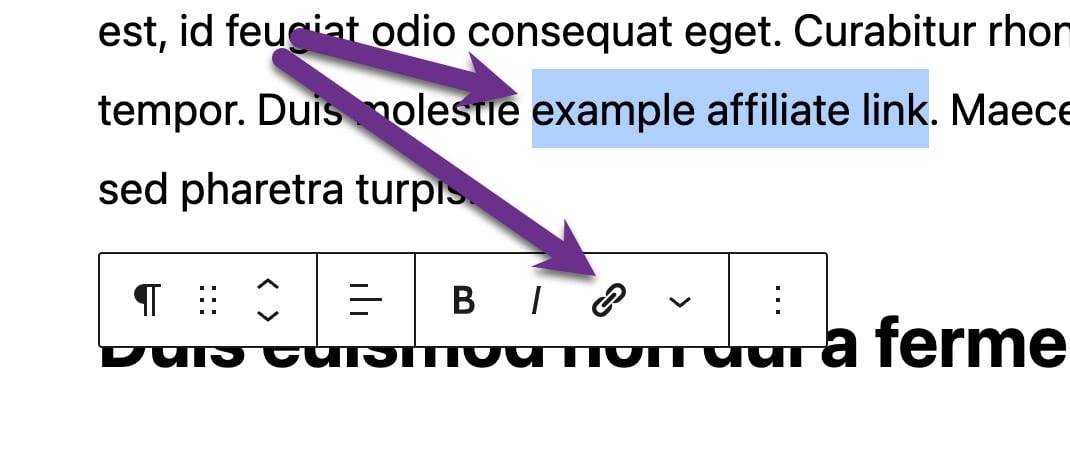 Add your affiliate link to the link field and then hit the Enter key.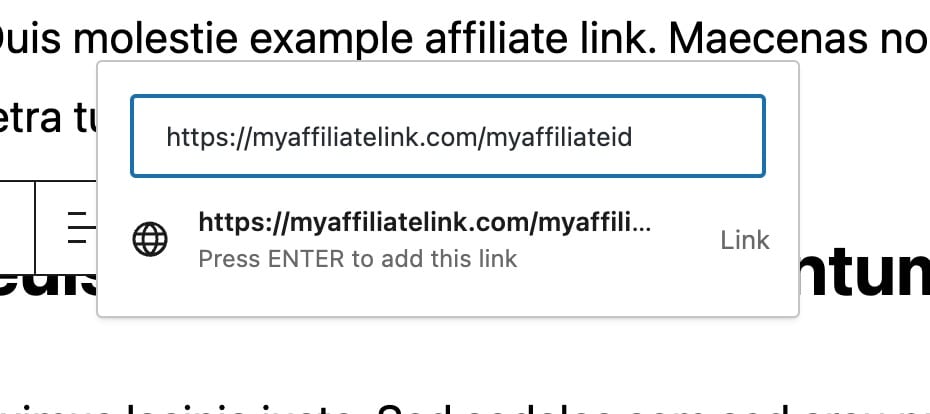 After you hit enter, click on the link again, and it will give you the option to edit the link. Click on the pencil icon.

In the edit link modal, click on the Advanced option.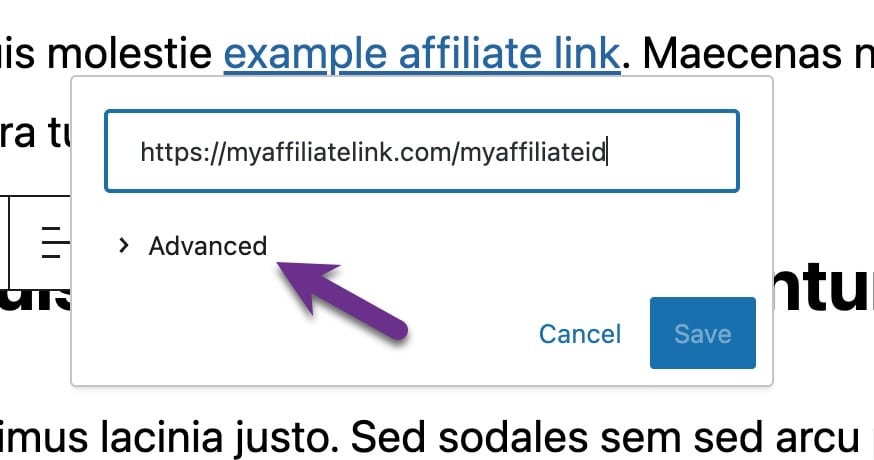 In the expanded Advanced option, tick the checkbox next to the option to either add the rel="sponsored" or rel="nofollow" to the link and then click the Save button to set your settings. (The option to open the link in a new tab is also available under the Advanced options.)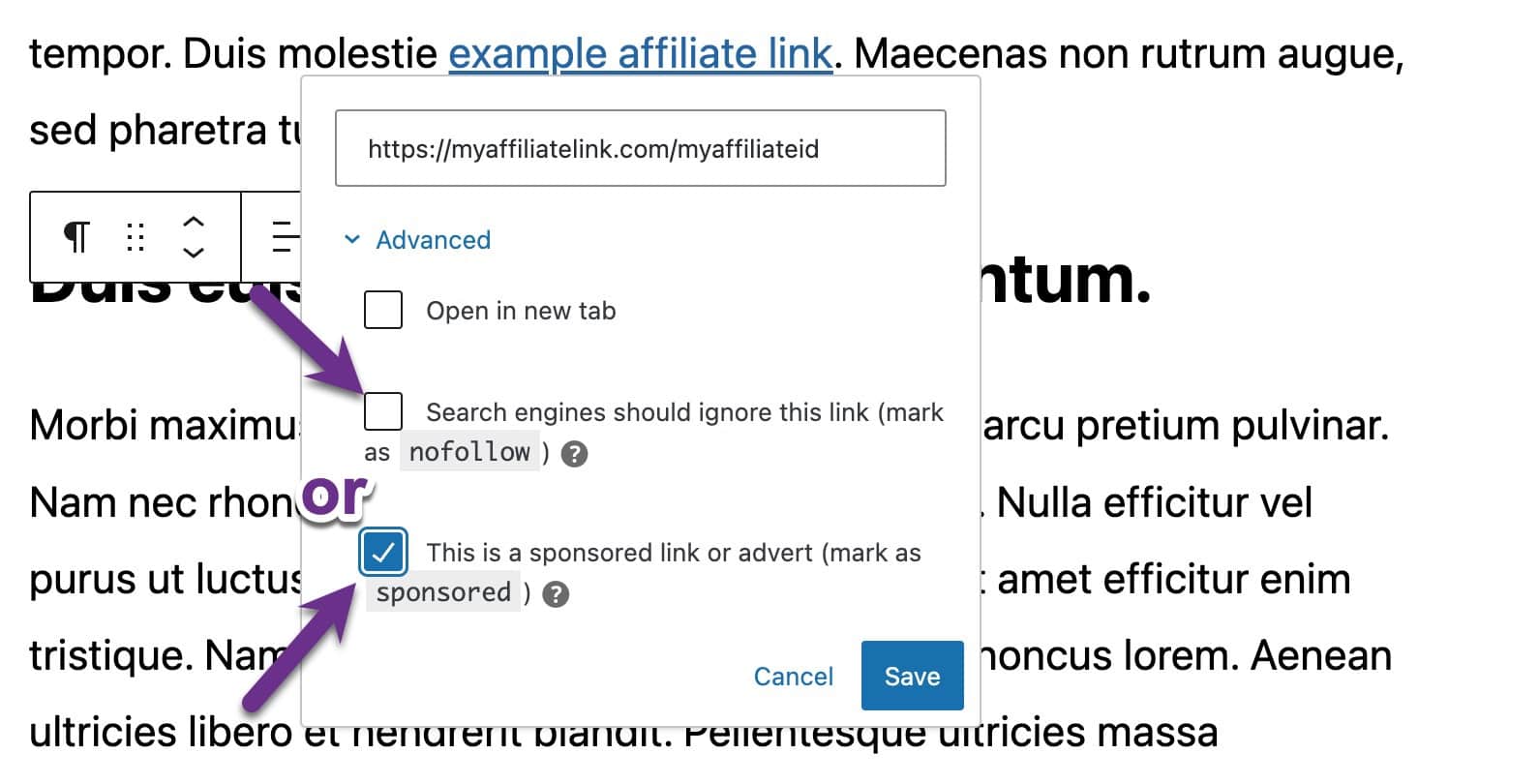 What plugins do you recommend to manage affiliate links?
If you use numerous affiliate links in multiple locations across your site, it can quickly become a chaotic mess. They're completely optional, but we recommend the Pretty Links or Tasty Links plugins, both of which help you organize and manage your affiliate links. When used, they can also make it easier to update any affiliate links that may change.
If you do encounter a situation where you're not managing your affiliate links with a plugin and need to replace those links manually, we have an article that covers how to replace links on your site (while minimizing SEO risks) that will help guide you through that process.
The Blog Fixer also has a Dead Affiliate Link Service (paid link! 😎) that can help you update a large number of links for a reasonable, one-time fee.
Should I add a disclosure for affiliate links on social media and in emails?
Yes. The FTC requires that you disclose a financial or affiliate relationship when you endorse or recommend a product in a social media post.
The FTC website doesn't say much about disclosures in email, specifically, but why wouldn't you want to be safe, cover all your bases, and be open and transparent with your audience? So, we recommend adding affiliate disclosures to your emails, the same way you would on your website.
Heads up, Amazon Associates! Amazon expressly prohibits using their affiliate links in email. If you get caught they may kick you out of their program.
More Affiliate Link Best Practices
If you'd like to take a deeper dive into affiliate links, rel tags, and more, we recommend these resources for continued reading: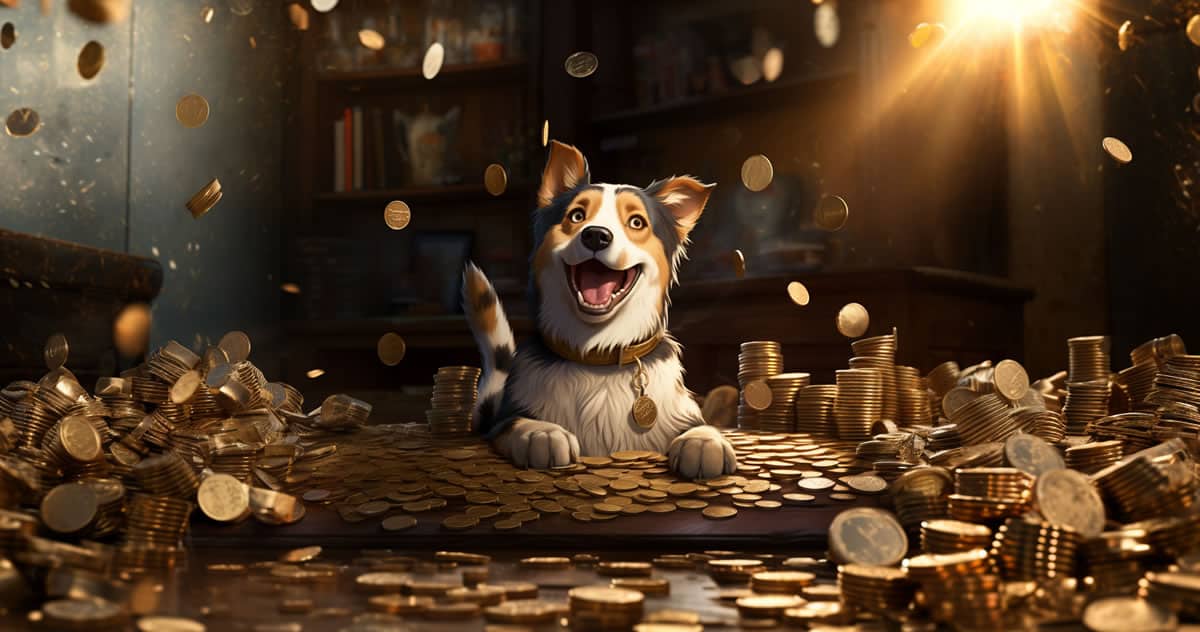 Thank you to our collaborators, Casey Markee, Mike Zielonka, and Lindsay Humes for their helpful input and insights on this article!