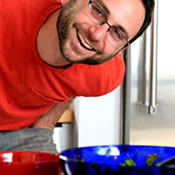 Hi. My name is Andrew Wilder.
I'm the "Healthy Foodie" behind Eating Rules. I'm also an internet consultant and website designer/programmer.
It seems there are very few tech folks who also "speak" food blogger, so I started NerdPress (formerly called Blog Tutor) to bridge that gap.  We've helped lots of bloggers with site speed, web hosting, SEO, social media buttons, layout and design, broken plugins, and lots more.
In my work on over a hundred blogs and websites, I noticed that very few people actually backup, secure, or update their sites. It's stuff nobody wants to do, but it's really, really important if you're serious about your site.
To solve that problem, I've created WordPress Security and Maintenance Support Packages that take care of all that stuff for you. I like to think of them as an insurance policy for your blog.
We start with automatic backups, security scanning, and uptime Monitoring. Then we add in WordPress Core and Plugin updates (and, most importantly, we'll fix things if the updates break anything – no extra charge). And to be sure you're covered, we now include "Quick-Support" help for those little tech questions that always seem to pop up. Please go here to learn more!